[Werbung] Deals: Xbox The Game Awards-Angebote sind online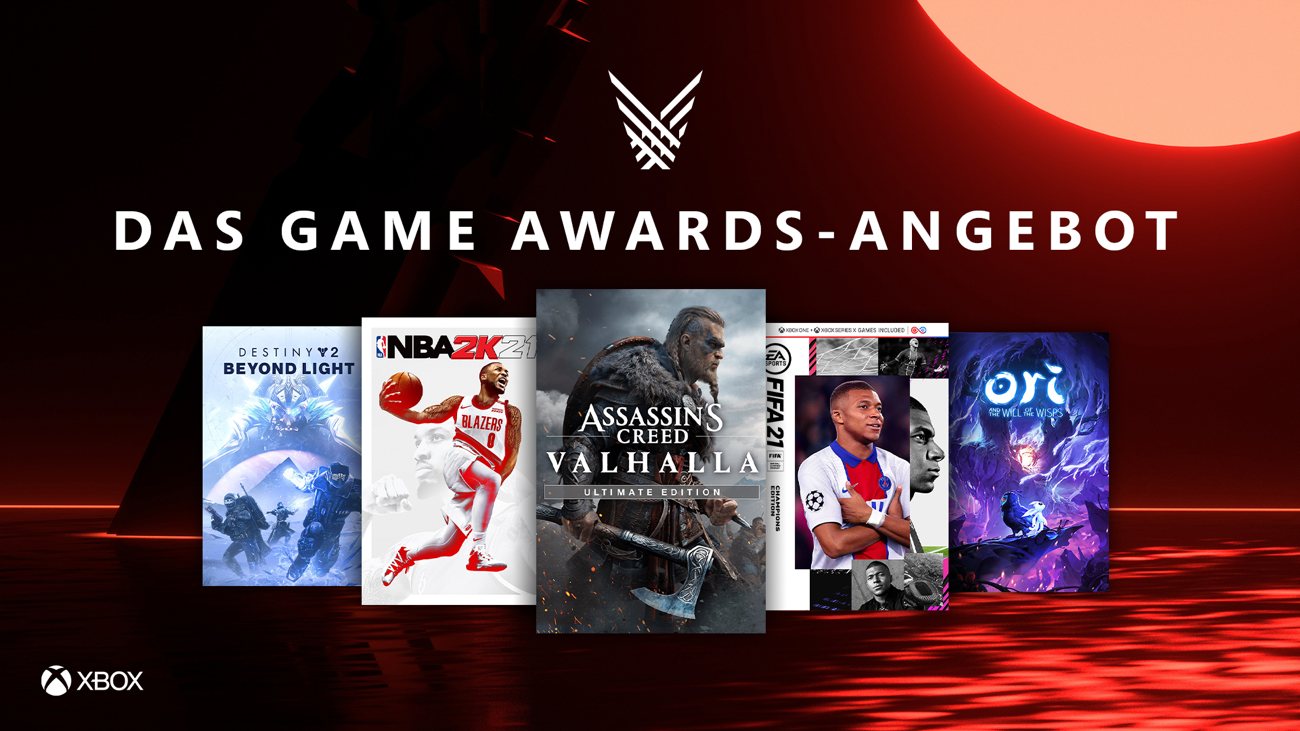 Heute Nacht werden die The Game Awards ausgestrahlt und natürlich gibt es dazu passende Xbox Angebote im Store.
Wer nach Nachschub an coolen Xbox Titeln ist, der kann sich ja mal bei den Xbox The Game Awards-Angeboten umschauen, wo Ihr mal wieder eine Menge Euro beim Kauf von ausgewählten Xbox Spielen sparen könnt. So findet Ihr Titel wie, Assassin's Creed Valhalla, FIFA 21 oder auch ein Watch Dogs Legion unter den Angeboten.
Die The Game Awards werden heute in der Nacht von Donnerstag auf Freitag, ab 1 Uhr ausgestrahlt.
Frontlines: Fuel of War – Militärischer Egoshooter kostenlos für Xbox Live Goldmitglieder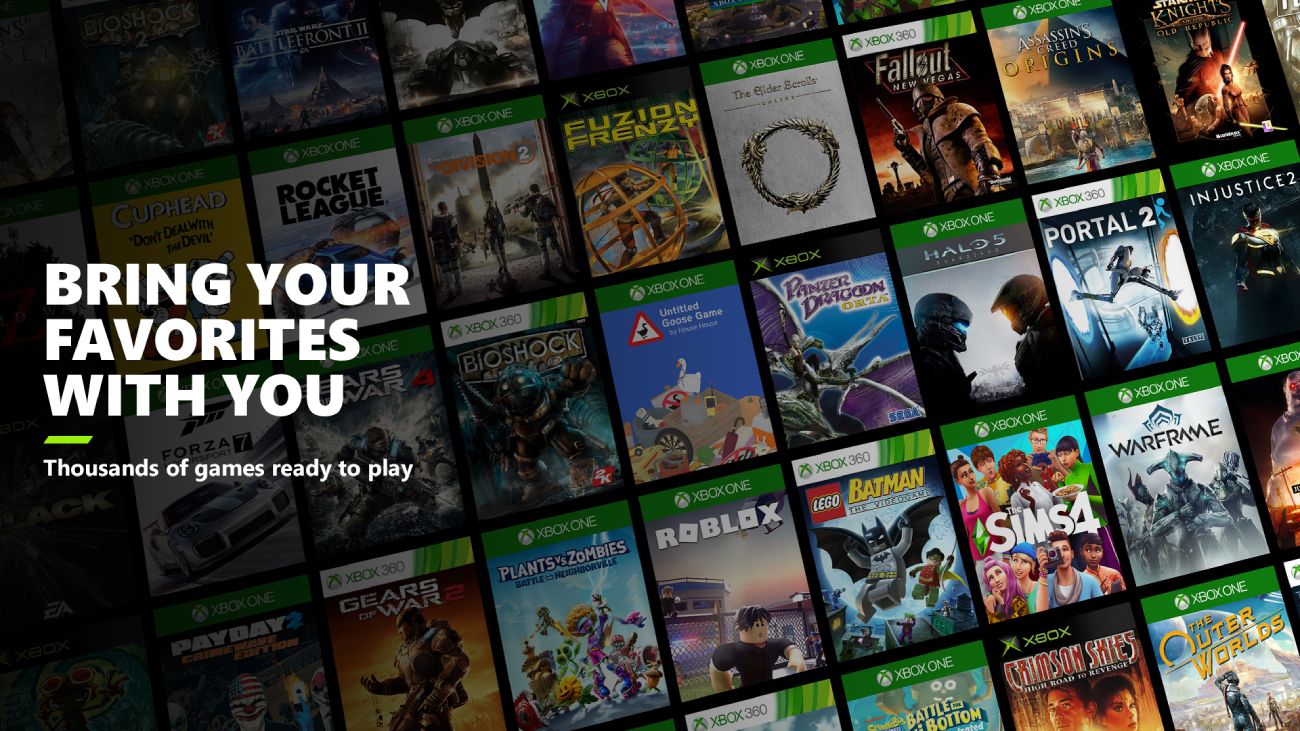 Xbox Live Goldmitglieder können sich aktuell den militärischen Egoshooter Frontlines: Fuel of War kostenlos herunterladen.
Neben den Games with Gold-Spielen, die Ihr jeden Monat als Xbox Live Goldmitglied absahnen könnt, steht euch auch der militärische Egoshooter Frontlines: Fuel of War für die Xbox 360 kostenlos zum Download bereit. Natürlich ist das Spiel, Dank Abwärtskompatibilität, auch auf der Xbox One bzw. Xbox Series X|S spielbar.
Leider sind die dedizierten Server für Frontlines: Fuel of War bereits im August 2011 abgeschaltet worden, doch er genug Freunde zusammen trommeln kann, der hat die Möglichkeit, eigene Sessions mit maximal 16 Teilnehmern zu hosten.
So heißt es in der Beschreibung zum Spiel auf Xbox.com:
Frontlines: Fuel of War ist ein militärischer Egoshooter, der besonders die Verwendung von Infanterie und Fahrzeugen betont und in einer alternativen Realität spielt. Die neu gegründete Rotstern-Allianz unter der Führung von Russland und China kämpft mit den Armeen der Westkoalition (Vereinigte Staaten & Europäische Union) um die immer knapper werdenden Energiereserven. Dies bildet den Schauplatz für einen Konflikt epochalen Ausmaßes, in dem die größten Militärmächte der Welt aufeinander treffen
Torchlight III und Remnant: From the Ashes im großen Holiday Sale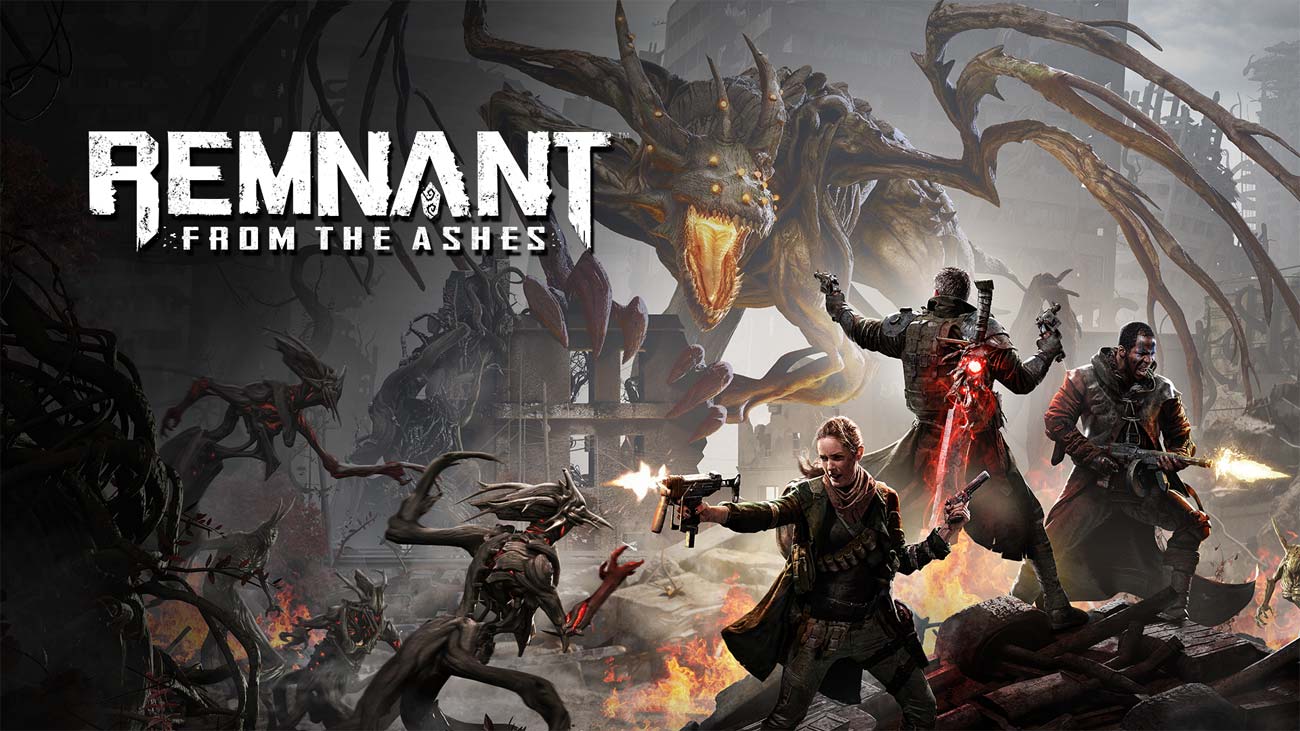 Der Dungeon-Crawler Torchlight III und das Survival-Action-Game Remnant: From the Ashes von Perfect World sind aktuell für Xbox im Angebot.
Torchlight III ist der neueste Nachfolger der ARPG-Klassiker, Torchlight I & II, die ursprünglich von Runic Games entwickelt wurden. Dieser schnelle Dungeon-Crawler führt Fans zurück in das beliebte Torchlight-Universum, wo sie sich ihren Weg durch eine brandneue Welt voller Goblins, Untoten und Horden anderer gefährlicher Netherim-Kreaturen kämpfen müssen. Abenteurer können allein oder gemeinsam mit Freunden losziehen, Gegenstände herstellen, Dungeons erkunden, epische Ausrüstung sammeln und ihr eigenes Fort errichten, das sie der ganzen Welt zeigen können. Torchlight III bietet vier einzigartige Heldenklassen (Zwielichtmagier, Roboschmied, Schienenkämpfer und Scharfschütze) sowie unzählige neue und bekannte Kampfbegleiter, die den Spielern auf ihrem Weg zu Ruhm und Ehre helfen werden.
Xbox One
Vom 18. Dezember bis zum 3. Januar sind Torchlight III und Remnant: From the Ashes im Xbox Countdown Sale runtergesetzt.
Remnant: From the Ashes ist ein Survival-Action-Spiel in Third-Person-Perspektive, das in einer postapokalyptischen Welt spielt, die von grässlichen Kreaturen heimgesucht wird. Als einer der Letzten der Menschheit werden Spieler alleine oder in einem Team mit bis zu zwei anderen tödlichen Gegnern und epische Bosse konfrontieren, um Fuß zu fassen, sich dem Wiederaufbau zu widmen und Verlorenes zurückzuerlangen.
[Werbung] Xbox Countdown Sale: Spare bis zu 75 % bei ausgewählten Xbox-Spielen
Beim Xbox Countdown Sale könnt Ihr aktuell bis zu 75 % bei ausgewählten Xbox-Spielen sparen.
Das Jahr 2020 neigt sich dem Ende und somit ist es auch wieder Zeit für den Xbox Countdown Sale. Dieser ist bereits im Microsoft Store verfügbar und bietet euch Rabatte von bis zu 50 % auf ausgewählte Xbox-Spiele.
So findet Ihr Titel, wie ein Assassin's Creed Valhalla, Call of Duty: Black Ops Cold War, Immortals Fenyx Rising, DIRT 5 und noch viele andere interessante Spiele im Angbot.
| Spiel | Rabatt | Microsoft Store |
| --- | --- | --- |
| 7 Days to Die | 70% | Kaufen* |
| 8-Bit Invaders | 90% | Kaufen* |
| A WAY OUT | 75% | Kaufen* |
| Abzu | 50% | Kaufen* |
| ACE COMBAT 7: SKIES UNKNOWN | 67% | Kaufen* |
| ACE COMBAT 7: SKIES UNKNOWN Deluxe Edition | 67% | Kaufen* |
| Adventure Time: Pirates of the Enchiridion | 70% | Kaufen* |
| Agents of Mayhem - Total Mayhem Bundle | 80% | Kaufen* |
| ALICE: MADNESS RETURNS | 75% | Kaufen* |
| Alien: Isolation | 60% | Kaufen* |
| Alien: Isolation - The Collection | 60% | Kaufen* |
| Alien: Isolation Season Pass | 80% | Kaufen* |
| Altas | 50% | Kaufen* |
| American Ninja Warriors: Challenge | 85% | Kaufen* |
| Ancestors: The Humankind Odyssey | 60% | Kaufen* |
| ANTHEM | 90% | Kaufen* |
| ANTHEM - DELUXE EDITION | 90% | Kaufen* |
| Apex Champion Content Bundle | 30% | Kaufen* |
| Apex Legends - Bloodhound Edition | 35% | Kaufen* |
| APEX LEGENDS - BLOODHOUND LIFELINE EDITIONS | 35% | Kaufen* |
| Apex Legends - Lifeline Edition | 35% | Kaufen* |
| APEX LEGENDS - OCTANE CONTENT BUNDLE | 35% | Kaufen* |
| APEX LEGENDS - PATHFINDER CONTENT BUNDLE | 35% | Kaufen* |
| Arcade Classics Anniversary Collection | 50% | Kaufen* |
| Arise: A simple story | 40% | Kaufen* |
| ARK: Genesis Season Pass | 20% | Kaufen* |
| Ark: Survival Evolved | 80% | Kaufen* |
| Ark: Survival Evolved Explorer's Edition | 75% | Kaufen* |
| ARK: Survival Evolved Season Pass | 65% | Kaufen* |
| Arkane 20th Anniversary Collection | 70% | Kaufen* |
| ARMY OF TWO | 67% | Kaufen* |
| Ary and the Secret of Seasons | 50% | Kaufen* |
| Assassin's Creed III Remastered | 60% | Kaufen* |
| Assassin's Creed Odyssey - DELUXE EDITION | 70% | Kaufen* |
| Assassin's Creed Odyssey - ULTIMATE EDITION | 70% | Kaufen* |
| Assassin's Creed Origins | 80% | Kaufen* |
| Assassin's Creed Origins - GOLD EDITION | 75% | Kaufen* |
| Assassins Creed Rogue Remastered | 67% | Kaufen* |
| Assassin's Creed Syndicate Gold Edition | 70% | Kaufen* |
| Assassin's Creed The Ezio Collection | 70% | Kaufen* |
| Assassin's Creed Unity | 70% | Kaufen* |
| Assassin's Creed Valhalla | 30% | Kaufen* |
| Assassin's Creed Valhalla Gold Edition | 20% | Kaufen* |
| Assassin's Creed Valhalla Ultimate Edition | 20% | Kaufen* |
| Assetto Corsa | 60% | Kaufen* |
| Assetto Corsa Competizione | 50% | Kaufen* |
| Assetto Corsa Competizione - GT4 DLC | 20% | Kaufen* |
| Assetto Corsa Competizione - Season Pass | 20% | Kaufen* |
| Assetto Corsa Competizione Intercontinetnal GT Pack | 20% | Kaufen* |
| Assetto Corsa Ultimate Edition | 80% | Kaufen* |
| Astroneer | 50% | Kaufen* |
| Banner Saga Trilogy | 67% | Kaufen* |
| Batman Arkham Collection | 67% | Kaufen* |
| BATTLEFIELD 1 | 55% | Kaufen* |
| BATTLEFIELD 1 BATTLEPACKS 40X | 80% | Kaufen* |
| BATTLEFIELD 1 PREMIUM PASS | 80% | Kaufen* |
| BATTLEFIELD 1 REVOLUTION EDITION | 75% | Kaufen* |
| BATTLEFIELD 1943 PACIFIC | 50% | Kaufen* |
| BATTLEFIELD 3 | 75% | Kaufen* |
| BATTLEFIELD 4 | 55% | Kaufen* |
| BATTLEFIELD 4 PREMIUM | 75% | Kaufen* |
| BATTLEFIELD 4 Premium Edition | 75% | Kaufen* |
| BATTLEFIELD HARDLINE ULTIMATE BUNDLE | 75% | Kaufen* |
| BATTLEFIELD V | 70% | Kaufen* |
| BATTLEFIELD V DEFINITIVE EDITION | 60% | Kaufen* |
| BATTLEFIELD: BAD COMPANY | 67% | Kaufen* |
| BATTLEFIELD: BAD COMPANY 2 | 75% | Kaufen* |
| BATTLEFRONT II | 70% | Kaufen* |
| BATTLEFRONT II CELEBRATION EDITION | 70% | Kaufen* |
| BATTLEFRONT II CELEBRATION EDITION UPGRADE | 35% | Kaufen* |
| BATTLEFRONT ULTIMATE BUNDLE | 75% | Kaufen* |
| Battletoads | 50% | Kaufen* |
| Ben 10: Power Trip | 30% | Kaufen* |
| Beyond Blue | 20% | Kaufen* |
| Big Buck Hunter Arcade | 85% | Kaufen* |
| Big Crown: Showdown | 80% | Kaufen* |
| Bioshock Collection | 80% | Kaufen* |
| Black Desert - 1,000 Pearls ASIA | 20% | Kaufen* |
| Black Desert - 1,000 Pearls EU | 20% | Kaufen* |
| Black Desert - 1,000 Pearls NA | 20% | Kaufen* |
| Black Desert - 10,000 Pearls ASIA | 20% | Kaufen* |
| Black Desert - 10,000 Pearls EU | 20% | Kaufen* |
| Black Desert - 10,000 Pearls NA | 20% | Kaufen* |
| Black Desert: Conqueror Edition ASIA | 60% | Kaufen* |
| Black Desert: Conqueror Edition EU | 60% | Kaufen* |
| Black Desert: Conqueror Edition NA | 60% | Kaufen* |
| Black Desert: Traveler Edition ASIA | 60% | Kaufen* |
| Black Desert: Traveler Edition EU | 60% | Kaufen* |
| Black Desert: Traveler Edition NA | 60% | Kaufen* |
| Bleeding Edge | 50% | Kaufen* |
| Bloodstained: Ritual of the Night | 60% | Kaufen* |
| Boggle | 60% | Kaufen* |
| Book of Demons | 50% | Kaufen* |
| Borderlands 3 | 67% | Kaufen* |
| Borderlands 3 Next Level Edition | 50% | Kaufen* |
| Borderlands 3 Super Deluxe Edition | 40% | Kaufen* |
| Borderlands 3 Ultimate Edition | 35% | Kaufen* |
| Borderlands Legendary Collection | 40% | Kaufen* |
| Borderlands The Handsome Collection | 75% | Kaufen* |
| BRAWLHALLA - ALL LEGENDS PACK | 25% | Kaufen* |
| Brothers: A Tale of Two Sons | 75% | Kaufen* |
| Bulletstorm: Full Clip Edition | 85% | Kaufen* |
| Bundle: South Park : The Stick of Truth + The Fractured but Whole | 67% | Kaufen* |
| BURNOUT PARADISE REMASTERED | 75% | Kaufen* |
| C&C RED ALERT 3 | 67% | Kaufen* |
| C&C RTS | 67% | Kaufen* |
| Call of Duty: Black Ops Cold War - Cross-Gen | 20% | Kaufen* |
| Call of Duty: Black Ops Cold War - Standard | 25% | Kaufen* |
| Call of Duty: Black Ops Cold War - Ultimate | 17% | Kaufen* |
| Capcom Beat 'Em Up Bundle | 50% | Kaufen* |
| Carnival Games | 75% | Kaufen* |
| Carrion | 25% | Kaufen* |
| Cars 3: Driven to Win | 75% | Kaufen* |
| Cartoon Network Battle Crashers | 85% | Kaufen* |
| CastleStorm II | 50% | Kaufen* |
| Castlevania Anniversary Collection | 50% | Kaufen* |
| Castlevania Harmony of Despair | 50% | Kaufen* |
| Castlevania Lords of Shadow | 67% | Kaufen* |
| Castlevania Lords of Shadow 2 | 75% | Kaufen* |
| Castlevania Mirror of Fate HD | 50% | Kaufen* |
| Castlevania Symphony of the Night | 50% | Kaufen* |
| Chicken Police | 20% | Kaufen* |
| Child of Light | 70% | Kaufen* |
| Cities: Skylines - Mayor's Edition | 75% | Kaufen* |
| Cities: Skylines - Premium Edition 2 | 75% | Kaufen* |
| Cities: Skylines - Season Pass 1 | 50% | Kaufen* |
| Cities: Skylines - Season Pass 2 | 50% | Kaufen* |
| Cities: Skylines - Xbox One Edition | 75% | Kaufen* |
| Cities: Skylines + Surviving Mars | 75% | Kaufen* |
| Civilization VI Expansion Bundle | 40% | Kaufen* |
| Cloudpunk | 30% | Kaufen* |
| Cobra Kai: The Karate Kid Saga Continues | 35% | Kaufen* |
| CODE VEIN | 67% | Kaufen* |
| CODE VEIN DELUXE EDITION | 67% | Kaufen* |
| Commandos 2 - HD Remaster | 25% | Kaufen* |
| Commandos 2 & Praetorians: HD Remaster Double Pack | 25% | Kaufen* |
| Conan Exiles - Standard Edition | 67% | Kaufen* |
| Conan Exiles - Standard Edition (ROW) | 67% | Kaufen* |
| Conan Exiles - Year 1 DLC Bundle | 30% | Kaufen* |
| Conan Exiles - Year 2 DLC Bundle | 30% | Kaufen* |
| Contra Collection | 50% | Kaufen* |
| Contra Rogue Corps | 75% | Kaufen* |
| Control Ultimate Edition | 50% | Kaufen* |
| Cooking Simulator (first discount) | 30% | Kaufen* |
| Crackdown 3 | 50% | Kaufen* |
| Crash Bandicoot 4: It's About Time | 50% | Kaufen* |
| Crash Bandicoot N. Sane Trilogy | 50% | Kaufen* |
| Crash Team Racing Nitro-Fueled | 65% | Kaufen* |
| Crash Team Racing Nitro-Fueled - Nitros Oxide Edition | 65% | Kaufen* |
| Crayola Scoot | 80% | Kaufen* |
| Crysis Remastered | 40% | Kaufen* |
| Cuphead | 30% | Kaufen* |
| DARK SOULS III | 75% | Kaufen* |
| DARK SOULS III - Deluxe Edition | 75% | Kaufen* |
| DARK SOULS: REMASTERED | 50% | Kaufen* |
| Darksiders Genesis | 50% | Kaufen* |
| Darksiders III | 70% | Kaufen* |
| Darksiders III Deluxe Edition | 70% | Kaufen* |
| Darksiders III DLC Bundle | 50% | Kaufen* |
| Darksiders: Fury's Collection - War and Death | 75% | Kaufen* |
| DayZ | 50% | Kaufen* |
| DayZ Linovia Edition | 25% | Kaufen* |
| Dead by Daylight: Silent Hill Edition | 25% | Kaufen* |
| Dead by Daylight: Standard Edition | 60% | Kaufen* |
| Dead Island Definitive Collection | 80% | Kaufen* |
| DEAD SPACE | 75% | Kaufen* |
| DEAD SPACE 2 | 75% | Kaufen* |
| DEAD SPACE 3 | 75% | Kaufen* |
| Descenders | 40% | Kaufen* |
| Desperados III | 40% | Kaufen* |
| Desperados III Season Pass | 40% | Kaufen* |
| Destiny 2: Beyond Light | 25% | Kaufen* |
| Destiny 2: Beyond Light +1 Season | 25% | Kaufen* |
| Destiny 2: Beyond Light Deluxe Edition | 15% | Kaufen* |
| Destiny 2: Forsaken | 67% | Kaufen* |
| Destiny 2: Legendary Edition | 35% | Kaufen* |
| Destiny 2: Shadowkeep | 67% | Kaufen* |
| Destroy All Humans! Remake | 30% | Kaufen* |
| Deus Ex: Mankind Divided | 85% | Kaufen* |
| Deus Ex: Mankind Divided - Digital Deluxe Edition | 85% | Kaufen* |
| Devil May Cry 5 | 20% | Kaufen* |
| Diablo 3 Eternal Collection | 67% | Kaufen* |
| DIRT 5 | 30% | Kaufen* |
| Dirt 5 Amplified Edition | 30% | Kaufen* |
| DiRT Rally 2.0 | 75% | Kaufen* |
| DiRT Rally 2.0 Super Deluxe Edition | 75% | Kaufen* |
| Dishonored 2 | 70% | Kaufen* |
| Dishonored 2 and Death of the Outsider | 70% | Kaufen* |
| Dishonored Definitive Edition | 70% | Kaufen* |
| Dishonored The Complete Collection | 70% | Kaufen* |
| Dishonored: Death of the Outsider | 70% | Kaufen* |
| Disintegration | 50% | Kaufen* |
| Disneyland Adventures | 60% | Kaufen* |
| Divinity: Original Sin 2 - Definitive Edition | 60% | Kaufen* |
| Dog Duty | 30% | Kaufen* |
| DOOM (1993) | 70% | Kaufen* |
| DOOM (2016) | 70% | Kaufen* |
| DOOM + Wolfenstein II Bundle | 70% | Kaufen* |
| Doom 3 | 70% | Kaufen* |
| DOOM 64 | 70% | Kaufen* |
| DOOM Eternal | 67% | Kaufen* |
| DOOM Eternal Deluxe Edition | 67% | Kaufen* |
| DOOM II (Classic) | 70% | Kaufen* |
| DOOM Slayers Collection | 67% | Kaufen* |
| DRAGON AGE 1 | 75% | Kaufen* |
| DRAGON AGE 2 | 75% | Kaufen* |
| DRAGON AGE: INQUISITION DLC BUNDLE | 75% | Kaufen* |
| DRAGON AGE: INQUISITION GOTY | 75% | Kaufen* |
| DRAGON BALL FIGHTERZ | 85% | Kaufen* |
| DRAGON BALL FIGHTERZ - Ultimate Edition | 85% | Kaufen* |
| DRAGON BALL XENOVERSE - Super Bundle | 80% | Kaufen* |
| DRAGON BALL XENOVERSE 2 | 85% | Kaufen* |
| DRAGON BALL Z KAKAROT | 60% | Kaufen* |
| DRAGON BALL Z KAKAROT - Ultimate Edition | 50% | Kaufen* |
| Dragon's Dogma Dark Arisen HD | 67% | Kaufen* |
| Drake Hollow (first discount) | 25% | Kaufen* |
| DreamWorks Dragons Dawn of New Riders | 75% | Kaufen* |
| Duke Nukem 3D: 20th Anniversary World Tour | 85% | Kaufen* |
| Dying Light | 33% | Kaufen* |
| Dying Light Anniversary Edition | 25% | Kaufen* |
| Dying Light Season Pass | 60% | Kaufen* |
| Dying Light: The Following | 60% | Kaufen* |
| Dynasty Warriors 7 Empires (JP) | 60% | Kaufen* |
| Dynasty Warriors 8 Empires | 60% | Kaufen* |
| Enter the Gungeon | 50% | Kaufen* |
| F1 2020 | 50% | Kaufen* |
| F1 2020 Schumacher Edition | 50% | Kaufen* |
| Fade to Silence | 67% | Kaufen* |
| Fallout 4 | 70% | Kaufen* |
| Fallout 4 DLC 1 Automatron | 60% | Kaufen* |
| Fallout 4 DLC 2 Wasteland Workshop | 60% | Kaufen* |
| Fallout 4 DLC 3 Far Harbor | 60% | Kaufen* |
| Fallout 4 DLC 4 Contraptions Workshop | 60% | Kaufen* |
| Fallout 4 DLC 5 Vault-Tec Workshop | 60% | Kaufen* |
| Fallout 4 DLC 6 NukaWorld | 60% | Kaufen* |
| Fallout 4 GOTY | 67% | Kaufen* |
| Fallout 4 Season Pass | 60% | Kaufen* |
| Fallout 76 | 60% | Kaufen* |
| Fallout 76 Recruitment Bundle | 40% | Kaufen* |
| Fallout 76: Steel Dawn Deluxe Edition | 60% | Kaufen* |
| Family Feud | 20% | Kaufen* |
| FAR CRY 4 GOLD EDITION | 70% | Kaufen* |
| Far Cry 5 | 80% | Kaufen* |
| Far Cry 5 + Far Cry New Dawn Deluxe Edition Bundle | 70% | Kaufen* |
| Far Cry New Dawn | 67% | Kaufen* |
| Far Cry Primal - Apex Edition | 67% | Kaufen* |
| FAST & FURIOUS CROSSROADS | 50% | Kaufen* |
| FAST & FURIOUS CROSSROADS - Deluxe Edition | 50% | Kaufen* |
| FIFA 21 CHAMPIONS EDITION | 60% | Kaufen* |
| FIFA 21 STANDARD EDITION | 50% | Kaufen* |
| FIFA 21 ULTIMATE EDITION | 55% | Kaufen* |
| FIFA THE JOURNEY EDITION | 80% | Kaufen* |
| FIGHT NIGHT CHAMPION | 75% | Kaufen* |
| Final Fantasy IX | 50% | Kaufen* |
| FINAL FANTASY TYPE-0 HD | 50% | Kaufen* |
| FINAL FANTASY TYPE-0 HD - Asian Version | 50% | Kaufen* |
| FINAL FANTASY TYPE-0 HD - Japan Version | 50% | Kaufen* |
| FINAL FANTASY TYPE-0 HD - UK Version | 50% | Kaufen* |
| Final Fantasy VII (PORT) | 50% | Kaufen* |
| Final Fantasy VIII Remastered | 50% | Kaufen* |
| Final Fantasy X/X-2 HD Remaster | 50% | Kaufen* |
| Final Fantasy XII Zodiac Age | 50% | Kaufen* |
| Final Fantasy XV MULTIPLAYER: COMRADES | 50% | Kaufen* |
| Final Fantasy XV Pocket Edition HD | 50% | Kaufen* |
| FINAL FANTASY XV ROYAL EDITION | 50% | Kaufen* |
| FINAL FANTASY XV ROYAL PACK | 50% | Kaufen* |
| Final Fantasy XV SEASON PASS | 50% | Kaufen* |
| FINAL FANTASY XV: Episode Ardyn | 50% | Kaufen* |
| FINAL FANTASY XV: Episode Gladiolus | 50% | Kaufen* |
| FINAL FANTASY XV: Episode Ignis | 50% | Kaufen* |
| FINAL FANTASY XV: Episode Prompto | 50% | Kaufen* |
| Fishing Sim World: Bass Pro Shops Edition | 25% | Kaufen* |
| Fishing Sim World: Pro Tour | 50% | Kaufen* |
| Fishing Sim World: Pro Tour Deluxe Edition | 60% | Kaufen* |
| For Honor Complete Edition | 75% | Kaufen* |
| Forza Horizon 4 Car Pass | 60% | Kaufen* |
| Forza Horizon 4 Fortune Island Expansion | 60% | Kaufen* |
| Forza Horizon 4 Lego Expansion | 60% | Kaufen* |
| Forza Horizon 4 Standard | 50% | Kaufen* |
| Forza Horizon 4 Ultimate | 55% | Kaufen* |
| Forza Horizon 4 Ultimate Add-On | 60% | Kaufen* |
| Forza Motorsport 7 Car Pass | 60% | Kaufen* |
| Forza Motorsport 7 Standard | 50% | Kaufen* |
| Forza Motorsport 7 Ultimate | 65% | Kaufen* |
| Fuser Standard Edition | 35% | Kaufen* |
| Fuser VIP Edition | 20% | Kaufen* |
| G.I. Joe: Operation Blackout | 35% | Kaufen* |
| G.I. Joe: Operation Blackout - Digital Deluxe | 35% | Kaufen* |
| Gears 5 | 75% | Kaufen* |
| Gears of War 4 | 50% | Kaufen* |
| Gears of War Ultimate Edition Deluxe Version | 50% | Kaufen* |
| Gears Tactics | 50% | Kaufen* |
| Generation Zero | 60% | Kaufen* |
| Generation Zero: Unrest Bundle | 60% | Kaufen* |
| Ghost Recon Breakpoint - Ultimate Edition | 75% | Kaufen* |
| Ghostrunner | 25% | Kaufen* |
| Gigantosaurus | 60% | Kaufen* |
| Gleamlight | 50% | Kaufen* |
| Golf with your friends | 25% | Kaufen* |
| Goosebumps | 85% | Kaufen* |
| Grand Theft Auto V: Premium Online Edition | 50% | Kaufen* |
| GRID | 75% | Kaufen* |
| GRID Ultimate Edition | 75% | Kaufen* |
| GTA Megalodon Shark Card | 15% | Kaufen* |
| Halo 5: Gaurdians | 50% | Kaufen* |
| Halo Wars 2: Complete Edition | 60% | Kaufen* |
| Halo Wars 2: Standard Edition | 60% | Kaufen* |
| Halo Wars: Definitive Edition | 65% | Kaufen* |
| Halo: The Master Chief Collection | 40% | Kaufen* |
| Hasbro Family Fun Pack - Super Edition | 75% | Kaufen* |
| Hellblade: Senua's Sacrifice | 75% | Kaufen* |
| Hello Neighbor | 75% | Kaufen* |
| Hello Neighbor: Home Invader Bundle | 70% | Kaufen* |
| Hitman 2 Gold Ed | 80% | Kaufen* |
| HITMAN Game of The Year | 80% | Kaufen* |
| HITMAN Game of The Year Upgrade | 80% | Kaufen* |
| Hitman HD Enhanced | 75% | Kaufen* |
| Homefront: The Revolution 'Freedom Fighter' Bundle | 85% | Kaufen* |
| Hotel Transylvania 3: Monsters Overboard | 70% | Kaufen* |
| Hotshot Racing | 33% | Kaufen* |
| How to Survive 2 | 75% | Kaufen* |
| Human Fall Flat | 60% | Kaufen* |
| Hungry Shark World | 50% | Kaufen* |
| HUNT: SHOWDOWN | 67% | Kaufen* |
| HUNT: SHOWDOWN- The Bayou Edition | 50% | Kaufen* |
| HUNT: SHOWDOWN- The Master Hunter Edition | 50% | Kaufen* |
| Ice Age: Scrat's Nutty Adventure | 60% | Kaufen* |
| Ikaruga | 50% | Kaufen* |
| Immortal Realms: Vampire Wars | 25% | Kaufen* |
| Immortal: Unchained | 50% | Kaufen* |
| Immortal: Unchained Ultimate Edition | 50% | Kaufen* |
| IMMORTALS FENYX RISING | 40% | Kaufen* |
| IMMORTALS FENYX RISING GOLD | 20% | Kaufen* |
| Indivisible | 40% | Kaufen* |
| Injustice 2:Legendary Edition | 67% | Kaufen* |
| Jackbox Party Pack 6 | 35% | Kaufen* |
| Jackbox Party Pack 7 | 30% | Kaufen* |
| Jagged Alliance Rage | 70% | Kaufen* |
| Journey to the Savage Planet | 50% | Kaufen* |
| Jumanji: The Videogame | 60% | Kaufen* |
| JUMP FORCE | 75% | Kaufen* |
| JUMP FORCE - Ultimate Edition | 75% | Kaufen* |
| Jurassic World Evolution: Dinosaur Collection | 50% | Kaufen* |
| Jurassic World Evolution: Expansion Collection | 60% | Kaufen* |
| Jurassic World Evolution: Jurassic Park Edition | 70% | Kaufen* |
| Jurassic World Evolution: Return to Jurassic Park | 55% | Kaufen* |
| Just Cause 3 | 80% | Kaufen* |
| Just Cause 3: XXL | 80% | Kaufen* |
| Just Cause 4 - Complete | 75% | Kaufen* |
| Just Cause 4 - Expansion Pass | 67% | Kaufen* |
| Just Cause 4 - Gold | 75% | Kaufen* |
| Just Cause 4 - Reloaded | 75% | Kaufen* |
| Just Dance 2021 | 35% | Kaufen* |
| Kerbal Space Program Complete Edition | 55% | Kaufen* |
| Killer Instinct DE | 75% | Kaufen* |
| Killing Floor 2 | 67% | Kaufen* |
| Kingdom Come: Deliverance | 60% | Kaufen* |
| Kingdom Come: Deliverance - Royal Edition | 60% | Kaufen* |
| Kingdoms of Amalur Re-Reckoning | 40% | Kaufen* |
| LA Noire 2017 | 50% | Kaufen* |
| Lara Croft and the Temple of Osiris | 85% | Kaufen* |
| Lara Croft and the Temple of Osiris & Season Pass Pack | 85% | Kaufen* |
| LEGO Batman 2 Back Compat | 50% | Kaufen* |
| Lego Batman 3: Beyond Gotham Deluxe Ed | 75% | Kaufen* |
| Lego DC Heroes & Villains Bundle | 60% | Kaufen* |
| LEGO DC Super Villains Deluxe Edition | 75% | Kaufen* |
| LEGO Harry Potter Collection | 50% | Kaufen* |
| LEGO Marvel Collection | 50% | Kaufen* |
| LEGO Marvel Super Heroes 2 Deluxe Edition | 75% | Kaufen* |
| LEGO Marvel's Avengers Deluxe Edition | 70% | Kaufen* |
| LEGO Movie Videogame 2 | 55% | Kaufen* |
| LEGO Ninjago Movie Videogame | 70% | Kaufen* |
| LEGO The Incredibles | 70% | Kaufen* |
| LEGO Worlds | 55% | Kaufen* |
| Life is Strange 2 - Complete Season | 60% | Kaufen* |
| Life is Strange 2 - Episode 2 | 50% | Kaufen* |
| Life is Strange 2 - Episode 3 | 50% | Kaufen* |
| Life is Strange 2 - Episode 4 | 50% | Kaufen* |
| Life is Strange 2 - Episode 5 | 50% | Kaufen* |
| Life is Strange Complete Season | 80% | Kaufen* |
| Life is Strange: Before the Storm Complete Season | 80% | Kaufen* |
| Life is Strange: Before the Storm Deluxe Edition | 80% | Kaufen* |
| Little Nightmares - Complete Edition | 75% | Kaufen* |
| Lock's Quest | 80% | Kaufen* |
| Lords of the Fallen Complete Edition | 85% | Kaufen* |
| Mad Max | 85% | Kaufen* |
| MADDEN NFL 21 DELUXE EDITION | 60% | Kaufen* |
| MADDEN NFL 21 MVP EDITION | 55% | Kaufen* |
| MADDEN NFL 21 STANDARD EDITION | 50% | Kaufen* |
| Mafia Definitive Edition | 25% | Kaufen* |
| Mafia: Trilogy | 25% | Kaufen* |
| Maneater | 35% | Kaufen* |
| Marvel vs Capcom Infinite | 75% | Kaufen* |
| Marvel vs. Capcom Infinite Deluxe Edition | 60% | Kaufen* |
| Marvel's Avengers | 50% | Kaufen* |
| Marvel's Avengers: Deluxe Edition | 50% | Kaufen* |
| Mass Effect: Andromeda – Deluxe Recruit Edition | 75% | Kaufen* |
| Mass Effect: Andromeda – Standard Recruit Edition | 75% | Kaufen* |
| Mega Man 30th Anniversary Bundle | 33% | Kaufen* |
| Mega Man Legacy Collection 1 & 2 Combo Pack | 50% | Kaufen* |
| Mega Man X Legacy Collection 1+2 | 50% | Kaufen* |
| Mega Man Zero/ZX Legacy Collection | 35% | Kaufen* |
| Memories of Mars | 50% | Kaufen* |
| METAL GEAR RISING: REVENGEANCE | 75% | Kaufen* |
| METAL GEAR SOLID HD: 2 & 3 | 50% | Kaufen* |
| Metal Gear Solid V: Ground Zeroes | 85% | Kaufen* |
| Metal Gear Solid V: The Definitive Edition | 67% | Kaufen* |
| Metal Gear Solid V: The Phantom Pain | 70% | Kaufen* |
| Metal Gear Solid V: The Phantom Pain (Japan) | 70% | Kaufen* |
| Metal Gear Survive | 67% | Kaufen* |
| Metro 2033 Redux | 80% | Kaufen* |
| Metro Exodus | 67% | Kaufen* |
| Metro Exodus Expansion Pass | 55% | Kaufen* |
| Metro Exodus Gold Edition | 67% | Kaufen* |
| Metro Last Light Redux | 80% | Kaufen* |
| Middle Earth: Shadow of Mordor:GOTY | 50% | Kaufen* |
| Middle-Earth: Shadow of War Definitive Ed | 60% | Kaufen* |
| MIRRORS EDGE CATALYST | 75% | Kaufen* |
| MONOPOLY PLUS | 70% | Kaufen* |
| Monster Energy Supercross - The Official Videogame 3 | 70% | Kaufen* |
| Monster Energy Supercross 3 - Season Pass | 67% | Kaufen* |
| Monster Energy Supercross 3 - Special Edition | 70% | Kaufen* |
| Monster Hunter World | 25% | Kaufen* |
| Monster Hunter World Iceborne | 33% | Kaufen* |
| Monster Hunter World Iceborne Digital Deluxe | 33% | Kaufen* |
| Monster Hunter World Iceborne Master Edition | 25% | Kaufen* |
| Monster Hunter World Iceborne Master Edition Digital Deluxe | 25% | Kaufen* |
| Monster Jam Steel Titans | 50% | Kaufen* |
| MONSTER TRUCK CHAMPIONSHIP | 33% | Kaufen* |
| MONSTER TRUCK CHAMPIONSHIP DELUXE EDITION | 33% | Kaufen* |
| Monstrum | 35% | Kaufen* |
| Mortal Kombat 11 | 60% | Kaufen* |
| Mortal Kombat 11 Aftermath | 50% | Kaufen* |
| Mortal Kombat 11 DLC Bundle | 30% | Kaufen* |
| Mortal Kombat 11 Ultimate | 30% | Kaufen* |
| Mortal Shell | 30% | Kaufen* |
| MotoGP 20 | 60% | Kaufen* |
| Motorbike Racing Bundle | 75% | Kaufen* |
| Moving Out | 33% | Kaufen* |
| MX vs. ATV All Out | 70% | Kaufen* |
| MY HERO ONE'S JUSTICE 2 | 50% | Kaufen* |
| MY HERO ONE'S JUSTICE 2 - Deluxe Edition | 50% | Kaufen* |
| NARUTO SHIPPUDEN: Ultimate Ninja STORM 4 ROAD TO BORUTO | 70% | Kaufen* |
| NARUTO SHIPPUDEN: Ultimate Ninja STORM Trilogy | 50% | Kaufen* |
| NARUTO TO BORUTO: SHINOBI STRIKER | 85% | Kaufen* |
| NARUTO TO BORUTO: SHINOBI STRIKER - Deluxe Edition | 85% | Kaufen* |
| NASCAR HEAT 5 | 60% | Kaufen* |
| NASCAR HEAT 5 GOLD Edition | 60% | Kaufen* |
| NASCAR HEAT 5 SEASON PASS | 60% | Kaufen* |
| NBA 2K21 | 55% | Kaufen* |
| NBA 2K21 Mamba Forever Edition | 20% | Kaufen* |
| NBA JAM: ON FIRE EDITION | 50% | Kaufen* |
| NBA LIVE 19 GEN 4 | 90% | Kaufen* |
| Neon Abyss | 25% | Kaufen* |
| Neverwinter 2000 ZEN | 20% | Kaufen* |
| Neverwinter 500 ZEN | 20% | Kaufen* |
| Neverwinter 5300 ZEN | 20% | Kaufen* |
| NFS 2016 | 50% | Kaufen* |
| NFS HEAT | 50% | Kaufen* |
| NFS HEAT DELUXE EDITION BUNDLE | 50% | Kaufen* |
| NFS Hot Pursuit Remastered | 50% | Kaufen* |
| NFS PAYBACK | 50% | Kaufen* |
| NFS PAYBACK DELUXE EDITION | 50% | Kaufen* |
| NFS RIVALS (2014) | 50% | Kaufen* |
| NHL 21 | 50% | Kaufen* |
| NHL 21 - NHL 94 REWIND BUNDLE | 50% | Kaufen* |
| NHL 21 DELUXE EDITION | 55% | Kaufen* |
| NHL 21 Great Eight Edition | 50% | Kaufen* |
| Nickelodean Kart Racers | 85% | Kaufen* |
| Nickelodeon Kart Racers 2: Grand Prix | 35% | Kaufen* |
| NieR:Automata BECOME AS GODS Edition | 50% | Kaufen* |
| No Straight Roads | 33% | Kaufen* |
| ONE PIECE: PIRATE WARRIORS 4 | 50% | Kaufen* |
| ONE PIECE: PIRATE WARRIORS 4 - Deluxe Edition | 45% | Kaufen* |
| Ooblets | 20% | Kaufen* |
| Ori and the Blind Forest DE | 75% | Kaufen* |
| Ori and the Will of the Wisps | 50% | Kaufen* |
| Outward | 70% | Kaufen* |
| Overcooked 2 | 50% | Kaufen* |
| Overcooked! All You Can Eat | 25% | Kaufen* |
| Overwatch: Legendary Edition | 67% | Kaufen* |
| Paladins Champions Pack | 67% | Kaufen* |
| Paladins Digital Deluxe Edition 2019 + 2020 | 50% | Kaufen* |
| Paladins Season Pass 2019 + 2020 | 50% | Kaufen* |
| Pathfinder Kingmaker-Definitive Edition | 40% | Kaufen* |
| Paw Patrol: Mighty Pups save Adventure Bay | 30% | Kaufen* |
| Paw Patrol: On a Roll | 30% | Kaufen* |
| Payday 2 Crimewave Edition | 60% | Kaufen* |
| PES21 Arsenal | 50% | Kaufen* |
| PES21 Barcelona | 50% | Kaufen* |
| PES21 Bayern | 50% | Kaufen* |
| PES21 Juventus | 50% | Kaufen* |
| PES21 Manchester | 50% | Kaufen* |
| PES21 Standard | 50% | Kaufen* |
| PGA Tour 2K21 | 33% | Kaufen* |
| PGA Tour 2K21 Digital Deluxe | 30% | Kaufen* |
| Phoenix Wright Ace Attorney Trilogy | 50% | Kaufen* |
| Pillars of Eternity II: Deadfire - Ultimate Edition | 40% | Kaufen* |
| Pillars of Eternity: Complete Edition | 75% | Kaufen* |
| Pixar Rush | 60% | Kaufen* |
| PLANTS VS ZOMBIES GARDEN WARFARE 2 | 50% | Kaufen* |
| PLAYERUNKNOWN'S BATTLEGROUNDS | 75% | Kaufen* |
| Port Royale 4 | 20% | Kaufen* |
| Port Royale 4 Extended Cut | 20% | Kaufen* |
| Portal Knights | 60% | Kaufen* |
| Power Rangers: Battle for the Grid | 50% | Kaufen* |
| Praetorians - HD Remaster | 25% | Kaufen* |
| Prey | 70% | Kaufen* |
| Prey + Dishonored 2 Bundle | 75% | Kaufen* |
| Prey Deluxe Edition | 70% | Kaufen* |
| Prey DLC1 Mooncrash | 60% | Kaufen* |
| Project CARS 3 | 40% | Kaufen* |
| Project CARS 3 - Deluxe Edition | 30% | Kaufen* |
| PVZ BATTLE FOR NEIGHBORVILLE | 75% | Kaufen* |
| PVZ BATTLE FOR NEIGHBORVILLE DELUXE BUNDLE | 75% | Kaufen* |
| R.B.I. Baseball 20 | 70% | Kaufen* |
| Raccoon City Edition | 60% | Kaufen* |
| Race with Ryan | 25% | Kaufen* |
| Race with Ryan Road Trip Deluxe Edition | 40% | Kaufen* |
| Radiant Silvergun | 50% | Kaufen* |
| Radical Rabbit Stew | 75% | Kaufen* |
| RAGE 2 | 70% | Kaufen* |
| RAGE 2 Deluxe Edition | 70% | Kaufen* |
| Raji: An Ancient Epic | 25% | Kaufen* |
| Rapala Fishing Pro Series | 85% | Kaufen* |
| Rayman Legends | 75% | Kaufen* |
| Recore DE | 75% | Kaufen* |
| Red Dead Online | 75% | Kaufen* |
| Red Dead Redemption 2 | 55% | Kaufen* |
| Red Dead Redemption 2: Ultimate Edition | 60% | Kaufen* |
| Relicta | 30% | Kaufen* |
| Remnant: From the Ashes | 50% | Kaufen* |
| Remnant: From the Ashes Compete Edition | 40% | Kaufen* |
| Remothered: Broken Porcelain | 50% | Kaufen* |
| Resident Evil | 75% | Kaufen* |
| Resident Evil 0 | 75% | Kaufen* |
| RESIDENT EVIL 2 | 60% | Kaufen* |
| RESIDENT EVIL 2 Deluxe Edition | 60% | Kaufen* |
| Resident Evil 3 | 67% | Kaufen* |
| Resident Evil 4 | 60% | Kaufen* |
| Resident Evil 5 | 60% | Kaufen* |
| Resident Evil 6 | 60% | Kaufen* |
| Resident Evil 7 biohazard | 50% | Kaufen* |
| Resident Evil 7 biohazard Gold Edition | 50% | Kaufen* |
| Resident Evil Revelations | 60% | Kaufen* |
| Resident Evil Revelations 2 Deluxe Edition | 60% | Kaufen* |
| RIDE 4 | 30% | Kaufen* |
| RIDE 4 - Season Pass | 25% | Kaufen* |
| RIDE 4 - Special Edition | 30% | Kaufen* |
| Rise of the Tomb Raider - 20 Year Celebration Pack | 75% | Kaufen* |
| Rise of the Tomb Raider - Season Pass | 60% | Kaufen* |
| Rise of the Tomb Raider: 20 Year Celebration | 80% | Kaufen* |
| Risk of Rain | 50% | Kaufen* |
| Risk of Rain 1+2 | 40% | Kaufen* |
| Risk of Rain 2 | 40% | Kaufen* |
| Rock of Ages 2: Bigger and Boulder | 80% | Kaufen* |
| Rock of Ages 3: Make & Break | 50% | Kaufen* |
| Rocket Knight | 80% | Kaufen* |
| Rogue Company Standard Founders Pack | 35% | Kaufen* |
| Rogue Company Starter Founders Pack | 35% | Kaufen* |
| Rogue Company Ultimate Edition | 35% | Kaufen* |
| Ryse Legendary Edition | 75% | Kaufen* |
| Saints Row IV: Re- Elected | 75% | Kaufen* |
| Saints Row the Third Remastered | 50% | Kaufen* |
| Samurai Jack: Battle Through Time | 30% | Kaufen* |
| Screamride | 75% | Kaufen* |
| Scribblenauts Mega Pack | 75% | Kaufen* |
| SEA OF SOLITUDE | 60% | Kaufen* |
| Sea of Thieves Bundle | 50% | Kaufen* |
| Secret Neighbor | 60% | Kaufen* |
| SEGA Genesis Classics | 60% | Kaufen* |
| Sekiro: Shadows Die Twice | 35% | Kaufen* |
| Serious Sam Collection | 15% | Kaufen* |
| Shadow of the Tomb Raider Definitive Edition | 75% | Kaufen* |
| Shadow of the Tomb Raider Definitive Edition Extra Content | 70% | Kaufen* |
| Shadows Awakening | 50% | Kaufen* |
| Shotgun Farmers | 20% | Kaufen* |
| Sid Meier's Civilization VI | 67% | Kaufen* |
| Silent Hill HD Collection | 75% | Kaufen* |
| SIMS 4 | 75% | Kaufen* |
| SIMS 4 BASE GAME+ SIMS 4 CATS AND DOGS BUNDLE | 75% | Kaufen* |
| SIMS 4 CITY LIVING (EP3) | 50% | Kaufen* |
| SIMS 4 DELUXE EDITION | 75% | Kaufen* |
| SIMS 4 DINE OUT (GP3) | 25% | Kaufen* |
| SIMS 4 DISCOVER UNIVERSITY (EP8) | 50% | Kaufen* |
| SIMS 4 GET FAMOUS (EP6) | 50% | Kaufen* |
| SIMS 4 GET TO WORK (EP1) | 50% | Kaufen* |
| SIMS 4 GET TO WORK + DINE OUT + COOL KITCHEN STUFF BUNDLE | 50% | Kaufen* |
| SIMS 4 GET TOGETHER (EP2) | 50% | Kaufen* |
| SIMS 4 ISLAND LIVING (EP7) | 50% | Kaufen* |
| SIMS 4 JUNGLE ADVENTURE (GP6) | 25% | Kaufen* |
| SIMS 4 OUTDOOR RETREAT (GP1) | 25% | Kaufen* |
| SIMS 4 PARENTHOOD (GP5) | 25% | Kaufen* |
| SIMS 4 REALM OF MAGIC (GP8) | 25% | Kaufen* |
| SIMS 4 SEASONS (EP5) | 50% | Kaufen* |
| SIMS 4 SPA DAY (GP2) | 25% | Kaufen* |
| SIMS 4 STRANGERVILLE (GP7) | 25% | Kaufen* |
| SIMS 4 VAMPIRES (GP4) | 25% | Kaufen* |
| Sine Mora EX | 70% | Kaufen* |
| SKATE | 60% | Kaufen* |
| SKATE 3 | 75% | Kaufen* |
| Skater XL | 20% | Kaufen* |
| Skelattack | 75% | Kaufen* |
| Skully | 50% | Kaufen* |
| Skyrim SE + Fallout 4 GOTY Bundle | 60% | Kaufen* |
| Sleeping Dogs: Definitive Edition | 85% | Kaufen* |
| SMITE Digital Deluxe Edition 2020 | 35% | Kaufen* |
| SMITE Season Pass 2020 | 25% | Kaufen* |
| SMITE Ultimate God Pack | 67% | Kaufen* |
| Sniper Elite 3 Ultimate Edition | 75% | Kaufen* |
| Sniper Ghost Warrior 3 Season Pass Edition | 85% | Kaufen* |
| Sniper Ghost Warrior Contracts | 75% | Kaufen* |
| Sonic Adventure 2 | 50% | Kaufen* |
| SONIC FORCES™ Digital Standard Edition | 50% | Kaufen* |
| Sonic Generations | 50% | Kaufen* |
| Sonic Mania | 50% | Kaufen* |
| Sonic Mania: Encore DLC | 40% | Kaufen* |
| Sonic Unleashed | 50% | Kaufen* |
| SOULCALIBUR VI | 75% | Kaufen* |
| SOULCALIBUR VI - Deluxe Edition | 75% | Kaufen* |
| Space Crew | 30% | Kaufen* |
| Space Engineers Ultimate Edition 2020 | 30% | Kaufen* |
| Spiritfarer | 25% | Kaufen* |
| Spyro Reignited Trilogy | 65% | Kaufen* |
| Star Trek Online: 2000 ZEN | 20% | Kaufen* |
| Star Trek Online: 500 ZEN | 20% | Kaufen* |
| Star Trek Online: 5300 ZEN | 20% | Kaufen* |
| STAR WARS JEDI FALLEN ORDER DELUXE EDITION BUNDLE | 65% | Kaufen* |
| STAR WARS JEDI: FALLEN ORDER | 65% | Kaufen* |
| STAR WARS TRIPLE BUNDLE | 50% | Kaufen* |
| STAR WARS: SQUADRONS | 40% | Kaufen* |
| State of Decay 2: Juggernaut Edition | 40% | Kaufen* |
| STEEP | 50% | Kaufen* |
| Stranded Deep | 35% | Kaufen* |
| Street Fighter 30th Anniversary Collection | 50% | Kaufen* |
| Street Outlaws: The List | 85% | Kaufen* |
| Subnautica | 40% | Kaufen* |
| Sudden Strike 4 European Battle Fields | 70% | Kaufen* |
| Sunset Overdrive Deluxe | 75% | Kaufen* |
| Sunset Overdrive Standard | 75% | Kaufen* |
| Super Bomberman R | 75% | Kaufen* |
| Super Monkey Ball: Banana Blitz HD | 30% | Kaufen* |
| Surviving the Aftermath: Founder's Edition | 20% | Kaufen* |
| SWORD ART ONLINE Alicization Lycoris | 40% | Kaufen* |
| SWORD ART ONLINE Alicization Lycoris - Deluxe Edition | 30% | Kaufen* |
| Sword Art Online: Fatal Bullet | 75% | Kaufen* |
| Tales of Vesperia: Definitive Edition | 75% | Kaufen* |
| Tannenberg | 50% | Kaufen* |
| TEKKEN 7 | 80% | Kaufen* |
| TEKKEN 7 - Ultimate Edition | 80% | Kaufen* |
| Tell Me Why: Chapters 1-3 | 50% | Kaufen* |
| Tembo the Badass Elephant | 70% | Kaufen* |
| TENNIS WORLD TOUR 2 | 50% | Kaufen* |
| TENNIS WORLD TOUR 2 ACE EDITION | 50% | Kaufen* |
| TERMINATOR: RESISTANCE | 50% | Kaufen* |
| Terraria | 50% | Kaufen* |
| Tetris Effect: Connected | 25% | Kaufen* |
| The BioWare Bundle | 80% | Kaufen* |
| The Catch: Carp & Coarse | 40% | Kaufen* |
| THE CREW 2 - Gold Edition | 75% | Kaufen* |
| The Crew 2 Standard Edition | 80% | Kaufen* |
| The Dark Pictures Anthology: Little Hope | 35% | Kaufen* |
| The Dark Pictures Anthology: Little Hope & Man of Medan Bundle | 40% | Kaufen* |
| The Dark Pictures Anthology: Man Of Medan | 50% | Kaufen* |
| The Disney Afternoon Collection | 75% | Kaufen* |
| The Division 2 - Warlords of New York - Expansion | 70% | Kaufen* |
| The Division 2 - Warlords of New York - Ultimate Edition | 70% | Kaufen* |
| The Elder Scrolls Online: 14000 Crowns | 35% | Kaufen* |
| The Elder Scrolls Online: 1500 Crowns | 20% | Kaufen* |
| The Elder Scrolls Online: 21000 Crowns | 40% | Kaufen* |
| The Elder Scrolls Online: 3000 Crowns | 25% | Kaufen* |
| The Elder Scrolls Online: 5500 Crowns | 30% | Kaufen* |
| The Elder Scrolls Online: Greymoor | 67% | Kaufen* |
| The Elder Scrolls Online: Greymoor Collector's Ed. Upgrade | 67% | Kaufen* |
| The Elder Scrolls Online: Greymoor Collector's Edition | 67% | Kaufen* |
| The Elder Scrolls Online: Greymoor Upgrade | 67% | Kaufen* |
| The Elder Scrolls Online: Morrowind | 60% | Kaufen* |
| The Elder Scrolls V: Skyrim Special Edition | 60% | Kaufen* |
| The Escapists 2 | 70% | Kaufen* |
| The Evil Within | 75% | Kaufen* |
| The Evil Within 2 | 75% | Kaufen* |
| The Evil Within Digital Deluxe Edition | 70% | Kaufen* |
| The Evil Within Season Pass | 70% | Kaufen* |
| The Fisherman Fishing Planet | 60% | Kaufen* |
| The Last Campfire (first discount in TGA) | 20% | Kaufen* |
| The LEGO Games Bundle | 60% | Kaufen* |
| The Outer Worlds (XB1) | 60% | Kaufen* |
| The SIMS 4 Bundle - City Living, Vampires, Vintage Glamour Stuff | 50% | Kaufen* |
| The SIMS 4 Cats and Dogs Plus My First Pet Stuff Bundle | 50% | Kaufen* |
| The SIMS 4 Eco Lifestyle | 50% | Kaufen* |
| The SIMS 4 Snowy Escape Expansion Pack | 50% | Kaufen* |
| The SIMS 4 Star Wars: Journey to Batuu Game Pack | 25% | Kaufen* |
| The Survivalists | 20% | Kaufen* |
| The Survivalists - Deluxe Edition | 20% | Kaufen* |
| The Walking Dead: A New Frontier - The Complete Season (Episodes 1-5) | 50% | Kaufen* |
| The Walking Dead: The Final Season - The Complete Season | 50% | Kaufen* |
| The Walking Dead: The Telltale Definitive Series | 40% | Kaufen* |
| The Witcher 2: Assassins of Kings | 85% | Kaufen* |
| The Witcher 2: Assassins of Kings (Intl version) | 85% | Kaufen* |
| The Witcher 3: Wild Hunt | 70% | Kaufen* |
| The Witcher 3: Wild Hunt - Blood and Wine | 60% | Kaufen* |
| The Witcher 3: Wild Hunt - Complete Edition | 70% | Kaufen* |
| The Witcher 3: Wild Hunt - Hearts of Stone | 60% | Kaufen* |
| theHunter: Call of the Wild | 60% | Kaufen* |
| This is the Police | 75% | Kaufen* |
| This is the Police 2 | 70% | Kaufen* |
| Thronebreaker: The Witcher Tales | 50% | Kaufen* |
| TITANFALL 2 | 80% | Kaufen* |
| Titanfall 2: Ultimate Edition | 85% | Kaufen* |
| Tom Clancys Ghost Recon Breakpoint | 80% | Kaufen* |
| Tom Clancys Ghost Recon Wildlands - Standard Edition | 70% | Kaufen* |
| Tom Clancys Ghost Recon Wildlands Ultimate Edition | 70% | Kaufen* |
| Tom Clancy's Rainbow Six Siege - Year 5 Pass | 30% | Kaufen* |
| Tom Clancy's Rainbow Six Siege Deluxe Edition | 70% | Kaufen* |
| Tom Clancy's Rainbow Six Siege Gold Edition | 60% | Kaufen* |
| Tom Clancy's Rainbow Six Siege Ultimate Edition | 60% | Kaufen* |
| Tom Clancy's The Division 2 | 70% | Kaufen* |
| Tomb Raider: Definitive Edition | 85% | Kaufen* |
| Tony Hawk's Pro Skater 1 + 2 Deluxe Edition | 30% | Kaufen* |
| Tony Hawk's Pro Skater 1 + 2 Standard Edition | 25% | Kaufen* |
| Tony Stewart's All American Racing | 20% | Kaufen* |
| Tony Stewart's Spring Car Racing | 20% | Kaufen* |
| Torchlight III | 50% | Kaufen* |
| Tour de France 2020 | 50% | Kaufen* |
| Townsmen - A Kingdom Rebuilt | 60% | Kaufen* |
| Train Sim World 2: Collector's Edition | 25% | Kaufen* |
| Train Sim World 2020 Deluxe | 50% | Kaufen* |
| TRANSFORMERS: BATTLEGROUNDS | 30% | Kaufen* |
| TRANSFORMERS: BATTLEGROUNDS Digital Deluxe Edition | 30% | Kaufen* |
| TRIVIAL PURSUIT LIVE! | 60% | Kaufen* |
| Trollhunters: Defenders of Arcadia | 45% | Kaufen* |
| Tropico 6 | 50% | Kaufen* |
| Truck Driver | 30% | Kaufen* |
| TY the Tasmanian Tiger HD | 30% | Kaufen* |
| UFC 4 | 45% | Kaufen* |
| UFC 4 DELUXE HOLIDAY EDITION | 45% | Kaufen* |
| UglyDolls: An Imperfect Adventure | 85% | Kaufen* |
| Ultimate Chicken Horse | 55% | Kaufen* |
| Ultimate Marvel vs Capcom 3 | 60% | Kaufen* |
| Underworld Ascendant | 75% | Kaufen* |
| UNO Ultimate Edition: UNO + UNO Flip! | 60% | Kaufen* |
| UNRAVEL | 67% | Kaufen* |
| UNRAVEL 2 | 67% | Kaufen* |
| Unravel Yarny Bundle | 67% | Kaufen* |
| Unturned | 25% | Kaufen* |
| Virginia | 75% | Kaufen* |
| Warface: Breakout | 70% | Kaufen* |
| Warface: Breakout - Ultimate Edition | 70% | Kaufen* |
| Warface: Breakout Deluxe Edition | 70% | Kaufen* |
| WARRIORS OROCHI 4 The Ultimate Upgrade Pack | 30% | Kaufen* |
| WARRIORS OROCHI 4 The Ultimate Upgrade Pack Deluxe Edition | 30% | Kaufen* |
| WARRIORS OROCHI 4 Ultimate | 30% | Kaufen* |
| WARRIORS OROCHI 4 Ultimate Deluxe Edition | 30% | Kaufen* |
| Wasteland 3 | 35% | Kaufen* |
| Watch Dogs: Legion | 40% | Kaufen* |
| Watch Dogs: Legion - Gold Edition | 25% | Kaufen* |
| Watch Dogs: Legion - Ultimate Edition | 25% | Kaufen* |
| Watch Dogs2 | 80% | Kaufen* |
| Watch Dogs2 - Gold Edition | 80% | Kaufen* |
| Windbound | 35% | Kaufen* |
| Wolfenstein 2: The New Colossus | 60% | Kaufen* |
| Wolfenstein 2: The New Colossus Deluxe Edition | 60% | Kaufen* |
| Wolfenstein 2: The New Colossus Season Pass | 70% | Kaufen* |
| Wolfenstein Alt History Collection | 50% | Kaufen* |
| Wolfenstein The New Order | 60% | Kaufen* |
| Wolfenstein The Old Blood | 70% | Kaufen* |
| Wolfenstein Youngblood | 70% | Kaufen* |
| Wolfenstein Youngblood Deluxe Edition | 70% | Kaufen* |
| Wolfenstein: The Two-Pack | 60% | Kaufen* |
| World of Final Fantasy Maxima | 50% | Kaufen* |
| World of Warships: Legends — Iwaki Typhoon | 20% | Kaufen* |
| World of Warships: Legends — Torpedo Specialist | 30% | Kaufen* |
| Worms W.M.D | 75% | Kaufen* |
| WRC 9 FIA WORLD RALLY CHAMPIONSHIP | 50% | Kaufen* |
| WRC 9 FIA WORLD RALLY CHAMPIONSHIP DELUXE EDITION | 50% | Kaufen* |
| Wreckfest | 30% | Kaufen* |
| Wreckfest Season Pass | 30% | Kaufen* |
| WWE 2K Battlegrounds | 40% | Kaufen* |
| WWE 2K Battlegrounds Digital Deluxe Edition | 45% | Kaufen* |
| XCOM 2 | 75% | Kaufen* |
| XCOM 2 Collection | 75% | Kaufen* |
| Yakuza 0 | 50% | Kaufen* |
| Yakuza Kiwami | 50% | Kaufen* |
| Yakuza Kiwami 2 | 40% | Kaufen* |
| Yakuza: Like a Dragon | 25% | Kaufen* |
| Yakuza: Like a Dragon Hero Edition | 30% | Kaufen* |
| Yakuza: Like a Dragon Legendary Hero Edition | 35% | Kaufen* |
| Yu-Gi-Oh! Legacy of the Duelist: Link Evolution | 60% | Kaufen* |
| Zombie Army 4: Dead War | 50% | Kaufen* |
| Zombie Army 4: Dead War Deluxe Edition | 50% | Kaufen* |
| Zombie Army 4: Dead War Super Deluxe Edition | 50% | Kaufen* |
| Zombieland Double Tap | 85% | Kaufen* |
| Zoo Tycoon: Ultimate Animal Collection | 60% | Kaufen* |
| 真‧三国无双7 帝国 | 60% | Kaufen* |
| 真‧三國無雙7 Empires | 60% | Kaufen* |
*Affiliate- / Partnerlink