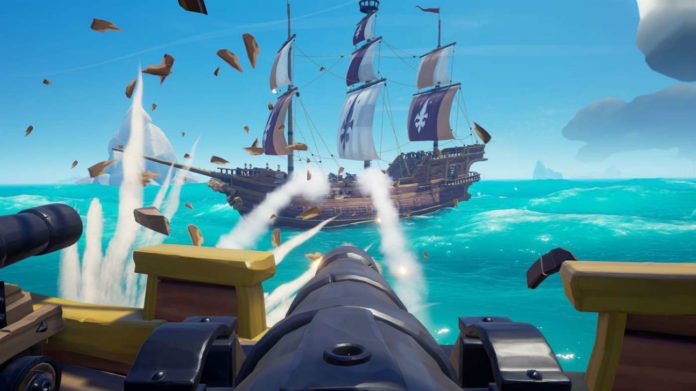 Die Sea of Thieves Closed Beta ist seit heute früh beendet, hatte aber wohl bereits so einiges im Gepäck gehabt, was uns dann wohl in der Vollversion des Spiels erwarten wird.
Wir hatten unseren Spaß in der Sea of Thieves Closed Beta und freuen uns auf die Vollversion des Spiels, welche am 20. März 2018 für Xbox One und Windows 10 erscheinen wird.
Findige Spieler haben sich die Closed Beta näher angeschaut und in der Windows 10-Version so einige Dinge in den Tiefen der vielen Dateien entdeckt, was uns dann später in der Vollversion erwarten wird, denn die Beta hat uns davon nur einen Bruchteil gezeigt.
So soll uns wohl eine große Krake erwarten, diverse Anpassungen für unser Schiff, viele Arten von Rätseln oder auch neue Waffen, wie eine Harpune. Das alles und noch mehr hat der Reddit User XXX in den Daten der Closed Beta gefunden:
Schatzkisten:
Chest of Sorrow
Common Chest
Drunken Chest
Legendary Chest
Mythical Chest
Rare Chest
Shipwreck Common Chest
Shipwreck Legendary Chest
Shipwreck Mythical Chest
Shipwreck Rate Chest
Gruppierungen / Allianzen:

Gold Hoarders
Merchant Alliance
Order of Souls
Kreaturen:
Bat
Chicken
Fishes
Parrot
Pig
Seagull
Shark
Snake
Feinde / Gegner:
Kraken – In the form of tentacles that wrap around your ship
Mermaids
Skellies
Nahrung:
Banana
Coconut
Pineapple
Pomegranate
Rum
Karten:
Blue Sea of Plenty
Sea of the Damned
The Wilds
Wide Sea of Plunder
Landmark Locations:
Blue Sea of Plenty:
Crescent Cove
Crescent Island
Lone Cove
Mermaids Hideaway
Sailors Bounty
Smugglers Bay
Wanderers Archipelago
The Wilds:

Arches
Cavern Isle
Old Faithful
Shipwreck Bay
Three Peaks
Wide Sea of Plunder:
Crooks Hollow
Devils Ridge
Discovery Ridge
Plunder Valley
Sharkbait Cove
Snake Island
Thieves Haven

NPCs:
Belle
Blind Bob
Bounty Dealer
Clothing Dealer
Generic Shopkeeper
Ghost Captain
Gold Hoarder
Innkeeper
Innkeeper_hideout
Merchant
Nice Mermaid
Order of Souls
Pirate Lord
Potion Seller
Shipwright
Weapon Dealer
Rätsel:
BountyLocation
DigHole
LookAtMap
NonVagueNonUniqueLandmarks
PlayInstrument
RaiseLantern
Schiffanpassungen:
Cannon
Capstan
Livery
Mast
Wheel
Schiffzusätze:
Schiff Figuren (am Kopf des Schiffen):
Angler Fish
Banjo
Dove
Dragon
jdark
Lion
Mermaid
Parrot
Poseidon
Shark
Skellylantern
Skullhead
Spinal
Squid
Swordfish
Unicorn
Zeus
Schiffsladungen:
Banana Crate
Cannonball Crate
Chicken Crate
Gunpowder Crate
Pig Container
Snake Basket
Wood Crate
Shops:
Clothing Shop
GH Company Equipment Shop
MA Company Equipment Shop
OOS Company Equipment Shop
Saltys Equipment Shop
Shadys Equipment Shop
Schatz Artefakte:
3 kinds of boxes
4 kinds of goblet
3 kinds of "impressive" artefacts
3 kinds of vases
Waffen:
Blunderbuss
Boarding Axe
Cutlass
Flintlock Pistol
Heavy Sword
Pistol
Rapier
Sniper Rifle
Letzte Aktualisierung am 17.07.2018 / Affiliate Links / Bilder von der Amazon Product Advertising API